HKEY_LOCAL_MACHINE\SOFTWARE\Microsoft\Windows NT\CurrentVersion\ProfileList
Questa è la chiave di registro in cui vengono dichiarate tutte le cartelle utilizzate come profilo degli utenti che eseguono il logon sul computer, non vi è mai capitato di volerne rinominarne qualcuna senza dover perforza ricreare nuovamente tutto il profilo? Questa operazione in realtà è piuttosto semplice.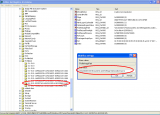 [1]
La chiave ProfileList, come potete vedere nell'immagine qui sopra, contiene alcune sottochiavi il cui nome corrisponde al SID di tutti gli utenti che si sono collegati almeno una volta sul computer preso in esame. Dentro ad ognuna di esse possiamo trovare una serie di valori più o meno interessanti, nello specifico: ProfileImagePath è quello che si occupa di stabilire il percorso alla cartella che verrà utilizzata come profilo utente.
Ecco un tipico caso di disordine all'interno di "Documents and Settings"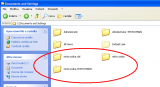 [2]
Per l'utente mirko.iodice (S-1-5-21-932357163-4043341325-4182193562-1107) la cartella di profilo più recente è "mirko.iodice.TESTDOMAIN", da un mio punto di vista non ha senso mantenere anche le altre.
Per mettere ordine mi basterà quindi eliminare le due cartelle di troppo, rinominare "mirko.iodice.TESTDOMAIN" in "mirko.iodice" e modificare il valore HKEY_LOCAL_MACHINE\SOFTWARE\Microsoft\Windows NT\CurrentVersion\ProfileList\S-1-5-21-932357163-4043341325-4182193562-1107\ProfileImagePath in:%SystemDrive%\Documents and Settings\mirko.iodice
Un unico avvertimento: così facendo potreste perdere le impostazioni di quei programmi che, non facendo uso delle variabili ambientali USERPROFILE, HOMEPATH o APPDATA, creano riferimenti assoluti ad eventuali files situati all'interno del profilo utente.
Autore
Mirko Iodice
mirko -at- notageek (.dot) it